Mr Beetle
CO08P00
Description
Complete aerosol system for pediatric therapy
Delivery 1ml in 3 minutes
Maximum therapeutic efficacy throughout the whole respiratory tract
Patented jet-nebulizer non-spill system, with 2 speed, TÜV tested micronization (EN 13544-1)
---
2 speed jet-nebulizer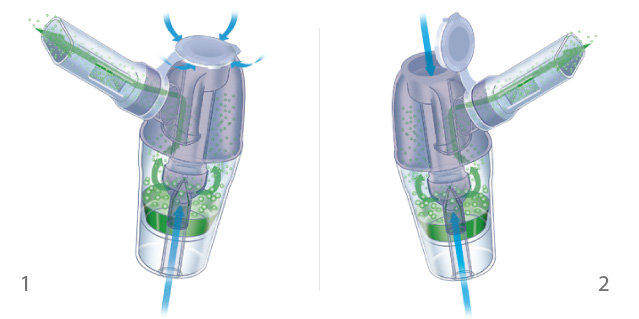 Standard mode: Inspiration with cap for best delivery and reduced dispersion of the medical nebulized medication
"High Speed" mode: Inspiration without cap for faster application
---
Non-spill system "save medication"
The RF6 Basic2 jet-nebulizer is also especially suitable for pediatric use, since the non-spill system prevents medication from spilling out even if the nebulizer is accidentally tipped over.
Nebulisation technical features
RF6 basic2 jet-nebulizer:
with cap
Standard mode:
without cap
"High Speed" mode:
Maximum delivery:
0,25 ml/min (approx)
0,32 ml/min (approx)
MMAD:
3,8 μm
4 μm
Breathable fraction < 5μm:
62%
63%
Maximum fill volume:
8 ml
In vitro testing carried out at the Inamed Research GmbH & Co. KG on behalf of TÜV Rheinland Product Safety GmbH – Germany in compliance with the new European Standard for aerosol therapy appliance and Standard EN 13544-1.
Further details available on request.
RF6 Basic2 jet-nebulizer complete Kit with mouthpiece, Adult and Child mask
Connection tube
Carry bag